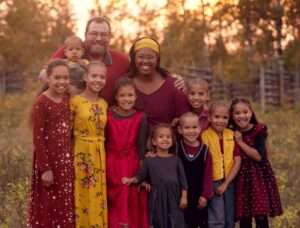 Thanks for checking out "Round Point Mini Aussies". We are the Hills. A family of eleven living on a small farm in 150 Mile House in central BC.
We raise chickens, Dexter cattle, ducks and Miniature Australian Shepherds. We fell in love with the Mini Aussies when we were looking for a dog which would be the right fit for our family. We wanted a family dog that would be great with children and enjoy keeping up with an active and adventurous family.
This breed fits right in with our lifestyle and we have been able to expose them to lots of various people, different situations that arise on the farm, various livestock, and the adventures that go with a big family. We enjoy their athletic ability, their loyalty, their intelligence, and their unique personalities. They are easily trainable because they are very intelligent and eager to please their humans. They are very gentle and look out for our children, even down to the smallest member of the family. We can't imagine life without our Aussies!
Our Miniature Australian Shepherds live with us in our home and we take great pride in producing high-quality, healthy, robust and happy puppies that others can enjoy and love.
Give us a call as we would love to have a conversation with you to see if one of our Mini Aussies would make a great fit for you, your family and your lifestyle.
God Bless,
Jeremy & Paulina Hill & Family